Fieldtrip to Azlag & Kalaa M'Gouna
Our
amazing
host, BP*, was one of the current first-year volunteers. For an Abercrombie & Fitch whiteboy, he's an excellent cook with a kitchen that only Martin Yan could have fully stock; I mean, how does one, especially an East-coast whiteboy, have red/purple sticky rice, curry mixes, fish sauce, hot chilli sauce in a Moroccan kitchen?
It was a nice break from the structured language and cultural lessons to go on the field trip. Also, I went on the field trip with a group that was not from my community-based training group; so, it was terrific to have a chance to get to know some of the others.
As with most images on this blog, click on them to enlarge.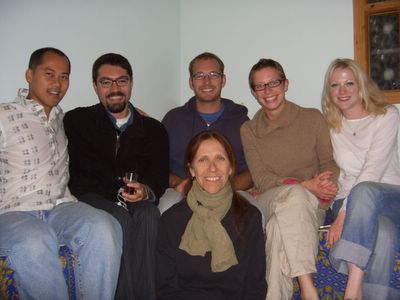 I love my fieldtrip group - don't we look like the most unlikely bunch assembled?



Here we are, the five of us piled into the first of four taxis needed to get to Azlag; a taxi of six, or even seven, is not uncommon in Morocco.



Rachidia is one of the mdina [towns/cities] we had to pass through; though I didn't care for the city (way too kbira [big] for me), I really enjoyed the landscape around the city.


Due to the "no travel at night" policy, we voted to stay the night in Tinghir. From the hotel's rooftop, we had a nice evening of lftar [break-fast], breaking of the fast to the near-full moon. Across from the hotel was a small park where we took the chance to rest before catching up with the second-year volunteer. I wouldn't mind having this as my final site!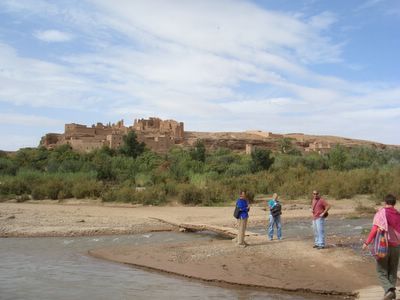 Kasbas [old castle/fortress] can be seen all over Morocco. During our stay, host BP took us on a hike near near this kasba .. what surprised me is that people still lived in them!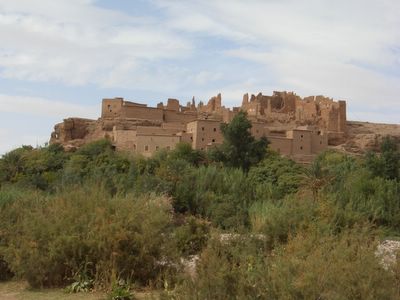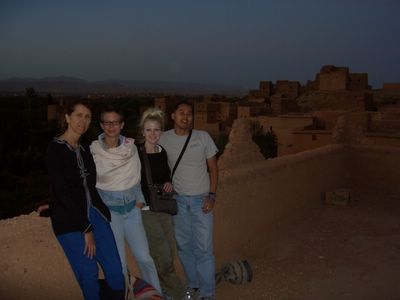 BP works with many artisans, and we got many invites to lftar [breaking of the fast]. The view from the rooftop of one of the artisan's house is amazing, the near-full moon added a sense of surrealism.



Movie-star-quality, Hollywood-gossip-mongering SF* was completely psyched to find chewing gums named after her hometown, Chicago; connection: famed Wrigley Gums has a big factory in her town. However, she was puzzled with the flavor: banana-flavoured gum.

I was fasting for RAMADAN until a couple of days ago. It was a hot day, and we were walking around the souq [open market] when I made the mistake of asking for lipbalm .. SF handed me CHERRY-flavoured chapstick .. and that was when I decided to break my fast; I'll continue fasting next week, when I'm at my homestay.
* actual names are withheld for obvious reasons.
A week in Azlag & Kalaa M-Gouna (just returned from our first "field-trip") .. and I had a blast. The trip from Azrou down to Azlag & Kalaa M'Gouna took nine hours, one bus, four grand taxis and a hotel. Due to the "no travel at night" policy, we stayed in Tinghir before continuing our trip to Kalaa M'Gouna the next morning .. it worked out for us, as we were able to enjoy our time walking around Tinghir, and got to meet one of the second-year volunteers who will be leaving service in December; he's best remembered for his "internal monologues" - email me for details.
another point of view ...
The key to good onion soup is to use beef consomme or good beef stock and not so much water instead of bullion cubes. Also, I prefer sweet onions such as Vidalia. Other than that, just use standard onion soup recipe you can find online. Also, find great deals on your holiday gift shopping at www.IncredibleDiscountGifts.com
ANON: ah .. onion soup will be a staple for me once i get my own place .. onion is cheap and avail year round here! however, cheese is still out of fashion (except, for some reason, gouda cheese) .. so i'll have to just make some plain onion soup, rather than french onion soup!
speak up!
---
previous 10 posts:
home/current
[index of posts within each monthly archive]