Khemisset Immersion Experience

I arrived in Khemisset (it's between Rabat and Azrou) on Sunday for more language and cultural immersion experience. My first (of two) homestay family is a joy to write home about. Here (L-R) are Adda, Saadia and Lubdna just relaxing after a cup of much-too-sweet atay (mint tea); son Houscene is away at college and may return home for Ramadan. And .. yes, if you're wondering .. the MODEL RELEASE FORMS have been signed.



Since Adda is a primary school ustad (teacher, French & Science) of 25 years, he's giving me a short lesson in French before we switch back to classical Arabic. Every now and then, I do catch him using Berber around the dar (house)!



On my regular trk (route/path) from homestay to l-mdrada (school/class) is this mural. I'm not sure what to make of it, other than the fact that I like it.



While at the souq (outdoor market), I got the chance to take many teswira (pictures) that come to life in many travel guides. This weld (boy) is utterly bored at this post as cashier at a lhem (meat) counter. A souq is kinda-sorta like a flea-market, but the experience is uncomparable. Oh, I've started to think in terms of the metric system.



I prefer to shop for vegetables and fruits at the souq; but for meats, I'll go to the butchers. If anyone has a great (and I mean, great!) French onion soup recipe, then please send along. I'll be making a few pots during the upcoming cold winter months.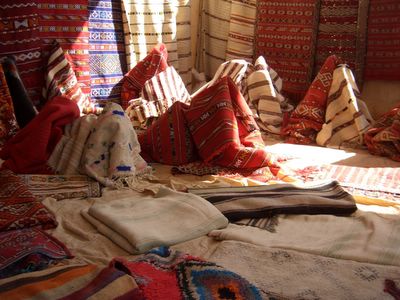 Khamessett is known for production of zerbiya (carpets/rugs), both high- and low-end products. I'm told that, recently, households are dusting off their old zerbiya and selling them at high-traffic tourist places; the idea is that tourists value these as antiques. Moroccans only buy new zerbiya.



Wool yarn is cheap at the souq; if Julia Roberts can learn to knit, then I ought to give it a try .. yeah, right.



Moroccan pointed-toe sebbat (shoes/slippers) are known the world over. I'm sure this is not the last teswira (picture) of sebbat to be posted on this blog.



One of the odder hanut (shop) at the souq was this guy selling human teeth. I guess there is a toothfairy, after all! Maybe he was a dentist before setting up shop at the souq.
another point of view ...
Wow, and double wow - your pictures are so good. I hope you get some recipes. That eggplant rice dish looked good.
The wool yarn is cool - too bad we can't just order some up over the internet!!
speak up!
---
previous 10 posts:
home/current
[index of posts within each monthly archive]