The Assignment
After a total of about three weeks at the community-based training site (Khemisset), I made the decision to speak up that I wanted Khemisset as my final site. Two others also made this request, while the rest left it up to the PC/Morocco staff to make the determination (with input from individuals regarding the assigned final sites). Many factors went into the decision to request the site as my final site, the top three factors:
I love my host family*;
I love the wood-carving artisans; and
I love the city.
Though Khemisset is not included in all guidebooks (sigh), I hope all of you will come to visit .. you'll have a place to stay, or at least a guide around town! I'll post info (re: demographics, crime stats, etc.) in a future post, as I'm a bit exhausted from this morning's jaunt to my final site -- took me three cabs rides (instead of the usual two) and over four hours (instead of the usual two) to get to my site; I was not aggressive enough to elbow out the Berber grandmothers for a seat when taxis pulled up.
NB: As with most images on this blog, click on them to enlarge.

With site assignment announced, SF** feverishly pins names to locations*** .. she's just way too organized; for gosh sake, she writes in upper caps (except when emailing).



TK, KM, VS, EH** and I were the last group to leave for our respective final sites; the first group left around 5:15am .. you think it would take them 40 days and nights to get to their final sites!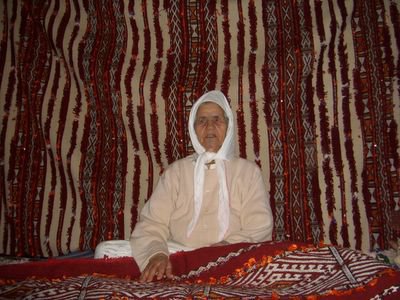 This is grandma MA** of my host-family; actually, both grandmothers were master weavers. Click on the image to enlarge and see the tattoos on her face (they are also on her hands and legs). This is a common practice for older textile weavers. As a master weaver, she has a large collection of carpets and blankets of amazing quality.



Click here to see a sampling of carpets and blankets the other grandmother's hands have woven.



Here is the other grandma with great-grandson, HA Jr**.



This family picture is on the morning of l3id ssgira [little feast]; this picture is here because it did not make it into the last posting. The guy in the cap is an uncle who dropped by for one of the dozen little breakfasts I had that morning! Missing from this picture is my little sister (she spent the night at a relative's].

* many pictures will be posted of my homestay family over the next couple of months
** actual names have been changed/withheld for obvious reasons
*** due to security and safety policy, volunteer locations and names are not identified here or privately, so don't even bother emailing/asking me regarding this topic me
I am thrilled .. my assigned final site is Khemisset. When I first heard that I was accepted to Peace Corps/Morocco, I did not give much thought on my site assignment due to the adrenaline rush that I was going to live in Africa for a couple of years. When I arrived in Morocco, I told the PC staff that I did not have a preference for my final site; heck, I did not even give them a preference for crafts/artisans to work with .. I was so low-key, the others were not sure if I had a blood pressure to indicate life. However, all this changed towards the end of phase II of the community-based training.
another point of view ...
Hey Nam
Great Assignment. Hope to hear about the carvers with lots of pictures. Do they use machine tools (eg: Foredoms or other hand-held rotating tool machines?) Who makes their knives? What kind of wood do they use and where do they get it? Are their designs traditional or do they update them from time to time?
I 'clicked' on Granma MA but the link must be slightly broken!
Thanks for the 'secret knowledge' HTML code! (smile)
hale
BlogginTheMaghreb"AT"hotmail.com
speak up!
---
previous 10 posts:
home/current
[index of posts within each monthly archive]