The Secret Kitchen
Recently, I invited another Peace Corps Trainee VS* to come visit my homestay family. We all had a wonderful time, as seen in the photos below.
As with most images on this blog, click on them to enlarge.

Yeah, I made everyone sit for another couple of minutes so I can take a picture before lftar [breaking of the fast]. As we've been fasting since dawn, everyone was anxious for me to take the (damn!) picture so we can start eating and drinking.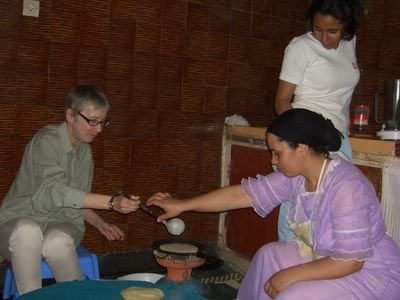 My host walida [mother] shows VS* how to make delicious bghrir [Moroccan crepe-pancake soaked in buttered honey]. Click here for another picture of VS* putting the finishing touches on the bghrir.




And here is my host walid [father] teaching me to cook. Men are rarely (if ever!) allowed in the kitchen, but I have a cool homestay family! Click here to see me trying to cook the hoot [fish] myself .. though I didn't burn them, they were crispier than the family is used to!




It's hard to believe that Moroccans prefer to exercise just before lftar [breaking of the fast]; though some items for lftar are prepared hours (if not days) ahead, others are prepared just before dusk. While the women prepare the food, the men are usually off watching soccer matches. In this picture is my host brother RA* [in the white/red jersey] scoring the winning point for the hometeam!
* actual names are withheld for obvious reasons.
The secret is out .. I have one of the best homestay families! MA* and SA* do what they can to make sure I have a great homestay experience; they seem to go out of their way to explain anything I ask about .. and the lingua-du-jour can be Darija [Moroccan Arabic], French, broken English, Tamazigh [Berber] or Spanish! The children (daughter LA* and RA*) make great learning partners, as we exchange language lessons .. I teach them English, and they teach me Darija.
another point of view ...
I love it when you and other PCers post pictures about their lives in Maroc. Feels like I'm sharing it with you!
BTW, how do you do that trick with large/small pictures in your blog? I like that and definitely need to know! (smile)
Hope all is well with you and hope training is going well. Have you learned where your 'final' station will be?
hale
BlogginTheMaghreb
Very cool, Nam.
Your pics are great, and everyone looks happy.
So, this is a weird question, but how does your laundry get done?
HALE: and, i am finding your blog very informative .. the situation here on your blog's topic is of great discussion; however, we've been asked to refrain from discussing this topic with Moroccans .. oddly, my host family engage me in the discussion all the time! now wiht green march just a few days away (nov 6), i can't help but talk about it with the other volunteers/trainees.
i'll send you an email about the html coding, and rumours about final site assignment :-)
PERI: not a weird question at all .. i'm still figuring that out myself. some of the trainees are with families with washers .. mine does not .. my host-mom has graciously offered to do my laundry, except for the shuma [shameful] items such as underware and socks. she does laundry by hand, with an old-fashion washboard and a bucket of water. when i visited
volunteer BP
, he also does laundry by hand. some of the other volunteers have someone doing their laundry (apparently it's cheap enough in their villages to get laundry service).
speak up!
---
previous 10 posts:
home/current
[index of posts within each monthly archive]