While You're Down There ...
I got a surprise from sassy blogger
LOVE HURTS
yesterday. A few weeks ago, I noticed that she was mounting a fantastic campaign, "
While You're Down There ...
*" That certainly caught my attention; proving, indeed, that sex sells, but not sure if the message gets across as I stare at the images! After a short exchange, she mentioned that she was able to secure a few sets of the posters and would ship a set to me; I got them "par avion" yesterday. The posters will be on loan to local cafes. THANK YOU,
LOVE HURTS
, for the posters!
On a related note, the United Nations has declared today "
World Environment Day
". The theme for this year's campaign is "
One World Many People
"(lacking in creativity and catchiness). As I am neither a city mayor nor a fan of Al Gore (self-proclaimed inventor-of-the-Internet junior who lost to political idiotic-savant-simpleton** George W. Bush in 2000), I did not attend the
San Francisco-hosted UN World Environment Day
; however, I did make it to a couple of the free film screenings yesterday.
Well, I'm off to enjoy the
29th Annual Union Street Festival
.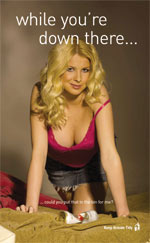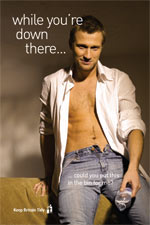 * ENCAMS (Environmental Campaigns) runs the over-arching "Keep Britain Tidy" campaign; the current message, "While You're Down There ...," targets litterbugging youths.
** My apologies to all the idiots, savants and simpletons. You guys deserve a better spokesperson.


another point of view ...
LOVE HURTS
: i was thrilled when i saw the note from the postman. and it was very exciting to wait in line at the post office as they looked for the parcel. i didn't know it was coming from the UK, so my mind raced like a MOFO as i imagine my $1,000,000 check from some sweepstake that i had entered months ago!
when i saw it was a parcel from you .. i was jumping with joy .. there was much ceremony as my roommate and i carefully opened it. again, thank you!
speak up!
---
previous 10 posts:
home/current
[index of posts within each monthly archive]