The Treat of the Graham Cracker
Masturbation Month
is officially over, it is acceptable (and
encouraged!
) to continue to celebrate this time-honored solo-love love-fest throughout the year ... this is similar to the notion that April is
Earth Day Month
, but many continue to recycle the other 11 months of the year (or so the U.S. Environmental Protection Agency informs us).
SIDEBAR #1: May 31 is International No-Tobacco Day; if you are an employee of Philip Morris International, a smoking chimpanzee, or a resident of New York City or Europe, then it's just another day for you.
Future blogger GAK directed me to a significant information regarding the historical importance of the
Graham cracker and masturbation
: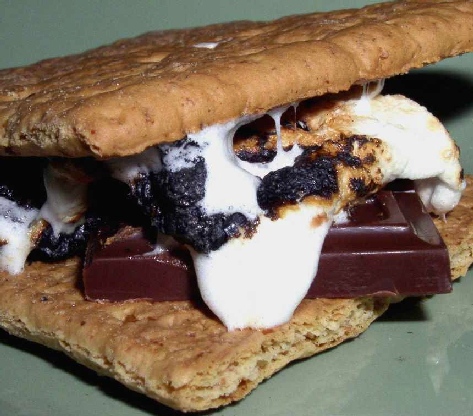 In the 1800s, Sylvester Graham led a health food crusade based on the idea that sexual excess including masturbation, erotic dreams and intercourse more than once a month was caused by rich and spicy foods. He prescribed a bland and boring diet; the Graham cracker, in fact, is a sweetened version of his invention.
I'm so peeved at myself for not knowing about this historical connection that I could beat myself up for my poor researching skills; not in the same way as when Ike used to beat Tina*, but more like when Elmer Fudd kicks himself for being tricked by the silly Bugs Bunny. Well, I'm off to restock my supply of graham crackers for s'mores at the upcoming summer beach parties.
*Domestic violence is nothing to laugh about ... just ask John Wayne Bobbit.
Though the end of May means that
another point of view ...
yes! there's much to like about graham crackers, now more so. i prefer mine with lots of jam.
speak up!
---
previous 10 posts:
home/current
[index of posts within each monthly archive]