That Time of Year
Kallun
for whipping up a counting script -- near the top it now says how long I have been in Morocco -- who says there's no Santa? Bah Humbug!

Since Christmas is not celebrated in Morocco**, I really did not have any appropriate pictures to post. I would love to claim this picture of me on a recent fantastic holiday get-away beach like Agadir or Tanger; however, it is not. This is a picture from March '04 (that's such a distance memory away!) when I was in San Diego with SC*; this is the same friend who, earlier this year, sold her home that is the historical-literary-birthplace of poet laureate Ted Hughes.



The spirit of Christmas commercialism has not completely escaped this Moroccan street vendor.



This is a typical scene of electrical outlet abuse .. whether in the U.S. or Morocco, this is an electrical fire hazard waiting to happen. Though this is not lighting up a Christmas tree, chances are the outlet for your tree is overworked, too.



Though I have not been to all the hanuts [stores] in Morocco, I have yet to see white-shelled eggs. I got to think about this because the host-family asked me about major holidays in America. This got me thinking about eggnought .. thus, leading me to the incredible, edible egg. How strange the mind works. The universe works in stranger ways.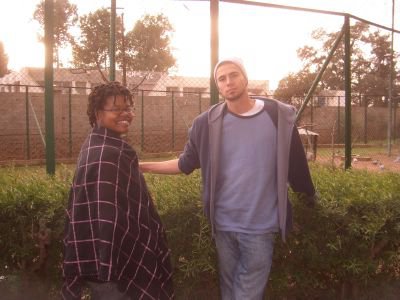 Peace Corps Volunteer TT* and her friend PC* came to visit (yeah! my first visitors) Khemisset. They had been to Khemisset before, about a year ago, and, as we walked through familiar territories, they talked like real estate agents .. commenting on all the new constructions, where the best places to eat/shop are, etc. We took a walk through the park (locals refer to the park as a zoo because there are cages of monkeys and birds) before they caught a grand taxi home at sunset.



I spend much time on the roof-top. Such vantage offers glimpses of life's everyday activities .. including this scene of an expert "roller" directly below.



A couple of weeks ago, I picked olives at the family's olive farm. This past weekend, I continued to help process the olives to get the sort-after-scientifically-proven-beneficial olive oil. A liter of first-, cold-pressed olive oil costs about 40dh (roughly US$4). At this very reasonable price, I'm gonna wash my hair with it once a week!



While on a walk about town, I stopped by to talk with an upholsterer***. He brought out many fabric samples to show me what is possible. When I rent my own place, I'll go to him to make my pillows and ponches [Moroccan sofas].


* actual names have been changed/withheld for obvious reasons (re: safety/security)
** well, at least not in Khemisset
*** this doesn't look right, but am told it is correct.

Thank you to
another point of view ...
Welll it is December 23rd here in NC-USA, and symbols and sounds and smells of Christmas are everywhere! Just wanted to wish you a Merry Christmas and hope that you have a productive, but peaceful and healthy 2006!
hale
speak up!
---
previous 10 posts:
home/current
[index of posts within each monthly archive]